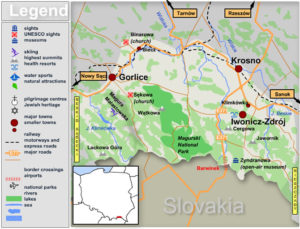 The Beskid Niski, the easternmost range of the Beskid Mountains, is situated between the Beskid Sadecki and the Bieszczady Mountains. As indicated by its name (niski means 'low'), it forms the lowest, but the most extensive part of the Beskid and includes several groups of notable mountains like Gory Grybowskie, Hanczowskie Gory, Pasmo Magurskie, and Beskid Dukielski. Long, low massifs of an average height of around 700-800 m are intersected with long winding valleys and rivers (including the Biala, Ropa, Wisłoka, Jasiolka, and Wislok) form the typical landscape of the Beskid Niski.
This is one of the remotest areas in Poland, especially the southern part, since much of its original population were resettled elsewhere following WWII. Most of the slopes are forested and inbetween you can find forgotten villages, wooden churches and traces of the local ethnic groups, which together makes the area a real paradise for the romantic hiker.
HOW TO GET TO BESKID NISKI
The easiest way to drive there from Krakow is through Tarnow, taking the E 40, or from Warsaw through Rzeszow (road no 9). Some of the most important local centres are Gorlice and Sanok, where you can find places to stay and buses to the many small towns and villages of the region. Other significant towns you might consider are Krosno and Biecz.