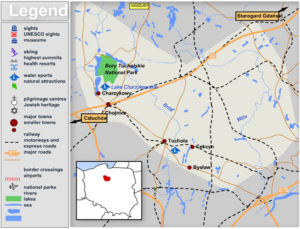 Covering an area of some 1200 hectares, Bory Tucholskie or the Tuchola Forest is the third largest forested region in Poland. It is located between the Brda and Wda rivers in the north of the country, with innumerable low hills and as many as 900 glacial lakes dotting the area. This beautiful scenery of woodlands, crystal clean lakes and rivers (especially Brook of Seven Lakes – Struga Siedmiu Jezior) as well as unpolluted air manages to attract many interested in getting close to nature and general holidaymakers alike.
The local forests – mostly pine, but with some patches of oak and beech – are full of mushrooms, cranberries, blueberries, blackberries and bilberries waiting to be picked. Animal life in the region abounds, including roe-deer, wild boars, foxes, stags, hares, badgers, beavers and many other smaller species.
HOW TO GET TO BORY TUCHOLSKIE
Many people take the train to Bydgoszcz and then continue to Swiecie, Chojnice or Tuchola. The towns are situated 36 km, 42 km, 70 km and 65 km from Bydgoszcz, respectively. If you are travelling by car, use national road 5 to get to Swiecie. National route 25 leads to Tuchola, in the western part of Bory Tucholskie. Czersk, another popular town in the region, is located along national road 22.