Bieszczady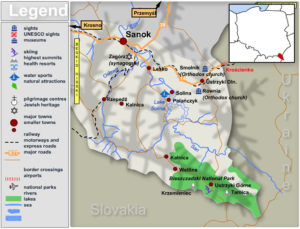 This is the Polish name for a section of the long Carpathian Arc between the Lupkowska and Uzhok passes, with a total length of 1560 km2. In short, the Bieszczady are ideal for those craving serenity: from the top of the treeless summits encircled by the green forests, one cannot help but simply marvel at the raw magnificence of nature. The beech is the most commonly found tree in the woodlands here, mixed with sycamore, fir and alder.
In the Bieszczady one can find some 900 species of vascular plants, including 42 species of plants protected in the Bieszczadzki National Park, which encompasses the highest sections of the Western Bieszczady Mountains. With approximately 200 unique species, the fauna of the Bieszczady is varied as well. Such big mammals as the European bison, brown bear, wild boar, lynx, wolf, deer and wildcat live here alongside many rare species of birds, including the Ural owl, golden eagle, Alpine hedge-sparrow and pipit.
How to get the Bieszczady Mountains 
Sanok, known as the "Gateway to the Bieszczady", is the most important town in the region. There are bus links with the majority of the cities in the south and east of Poland, including Krakow, Katowice, Warsaw, Gliwice, Przemysl, Krosno and Mielec. From Sanok, one can easily visit the smaller towns of either Ustrzyki Gorne or Ustrzyki Dolne – both forming popular jumping-off points for trips into the mountains. The Bieszczady is surrounded by two major road systems, known as Mala and Duza Petla Bieszczadzka. The former runs from Ustrzyki to Lesko, the latter passes the Solinski Reservoir from the south and heads to Lesko. Together they form the main transport artery for Bieszczady, with regular bus services connecting all the communities of the region. The region's railway junction in Zagorz lies 6 km from the central Sanok. You can get to Zagorze via Sanok by fast train from Warsaw, Krakow, Lodz or Gliwice.
Bieszczady hotels