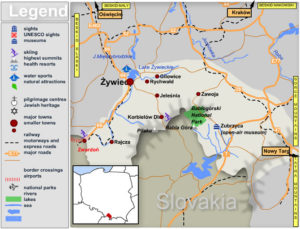 The range of the Beskid Zywiecki Mountains stretches between the valleys of the Sola River (in the west) and the Skawa River (in the east). It borders on the Small Beskid and Beskid Makowski Mountains. After the Tatra Mountains, this is the highest range of Carpathian Mountains in Poland, with plants at different levels that are typical for high mountains. The highest peaks are Babia Gora (1725 m), Pilsko (1557 m) and Wielka Racza (1236 m). To protect the wildlife, the major part of the Beskid Zywiecki was included in the Zywiecki Landscape Park, while the eastern part was incorporated in the Babiogorski National Park. The area of Babia Gora has also been included as one of the World's Biosphere Reserves since 1977.
Apart from its ecological importance, the region is great for recreational pursuits, open for anyone and including many hiking trails, skiing facilities and many other attractions. The best starting point to explore the Beskid Zywiecki is Zywiec, while other popular to visit villages and towns are Korbielow, Zawoja, Zwardon and Sucha Beskidzka (on the border with the Beskid Makowski).
HOW TO GET TO BESKID ZYWIECKI
The two closest international airports are those in Krakow (Balice) and Katowice (Pyrzowice). The main town of the area is Zywiec, easily accessible from Krakow (via Wadowice, Kety and Porabka – roads E77, 52 and 948) or from Katowice and Bielsko-Biala (E75). Zywiec also has rail connections with Warszawa, Katowice, Bielsko-Biala, and Krakow. If you are without a car, the best way to get to the main resorts are to take a train from Zywiec to Zwardon or Rajcza, or a bus if heading to Korbielow or Zawoja.