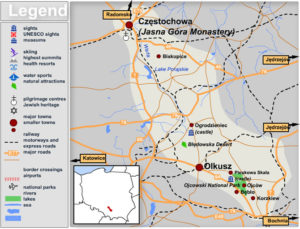 A unique area, both in terms of its geography and its history, Jura Krakowsko-Czestochowska lies in the south-central part of the country, caught between Czestochowa in the north and Krakow in the south. The region is attractive for anyone who is interested in sightseeing around cities (large urban areas like Krakow and Czestochowa and smaller ones such as Olkusz and Wielun) and seeing astonishing castles, but most especially for climbers and cavers due to the large number of caves and grottos.
If nature is what you are after, you will undoubtedly enjoy visiting Jura Krakowsko-Czestochowska, for the region boasts numerous Natural Parks and reserves like Smolen and Gora Zborow. As a matter of fact, nearly the whole of the Jura area is under protection. The Ojcowski National Park lies in the most attractive part of Jura, the Pradnik River Valley, and while small, it still manages to rank among the most beautiful National Parks in Poland. Quite surprisingly, there is even a desert here, called the Bledowska Desert!
HOW TO GET THERE 
Krakow is served by the Krakow-Balice international airport. If flying is not your preferred method of travel, then there is always the train, coach or car. For those coming by train from Warsaw, there are many Express and Intercity trains to get you conveniently to Krakow in approximately two and a half hours. Poland's western border is within easy reach from Krakow by the A4 national road. You can also use motorways to reach Krakow from Prague (550 km) and Vienna (400 km), through the border crossing in Cieszyn. The other main city of the region is Czestochowa, situated 100 km to the north of Krakow. However, although there is no airport there, you can fly to Warsaw or Krakow and take a direct train to Czestochowa. The journey from Warsaw takes two and a half to three hours, while from Krakow it is about two hours.
Recommended hotels in Jura Krakowsko-Czestochowska