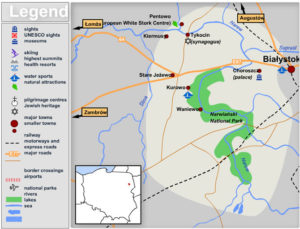 The Narew River and its surroundings are sometimes referred to as the "Polish Amazon", and since 1996 have formed part of a National Park. The upstream part of the Narew is an immense valley with flat banks, numerous meanders and several alternative riverbeds, providing excellent conditions for around 200 species of birds, including a lot of harriers, as well as animals, especially beaver and elk. The wild areas and the lovely rural countryside have many traditional thatched wooden houses, incomparable with any others in Europe.
Marshes and water constitute over 90 % of the whole territory of the park, so it is best to explore it by boat. Apart from the water routes there are also biking and hiking trails. This region of Podlasie is also known for its interesting historical sights.
HOW TO GET THERE 
The easiest way to get there is from Bialystok – a journey by car takes between half an hour and one hour, depending on your precise destination. There are railway connections between Bialystok, Uhowo and Lapy. Access to the Narwianski National Park is best to the west and south-west of the city. Bialystok itself has direct roads from Lomza (about 80 km), Warszawa (180 km), the Suwalki region and Masuria. There are also rail connections to all the main cities in Poland, generally changing in Warsaw.