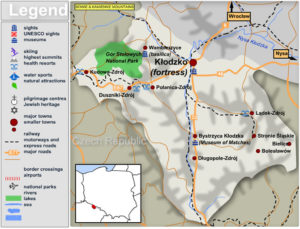 Klodzko Land is a comparatively small area in south-western Poland, within the Lower Silesian region situated in the Sudety Mountains. Known for its wide array of old-fashioned health resorts with extensive recreational and spa facilities, Klodzko Land amazes visitors with its natural and historical riches: the unusual formations of the Stolowe (Table) Mountains, the labyrinths of the Bialskie and Bystrzyckie Mountains, valleys dotted with curious tiny towns, mountain strongholds and castle ruins. If all that was not enough, the area has its own specific climate, large deposits of mineral waters and a great potential for a great break.
This segment of the Sudety Mountains, the Table Mountains ('Stolowe' in Polish), owe their name to their distinctive plateau structures, not to be found anywhere else in the country. They rise in the south-western corner of Poland and extend into the Czech Republic. The highest summit of the Stolowe is Snieznik at 1425 meters above sea level.
HOW TO GET THERE 
Klodzko, the main city in the region, has rail links to other parts of the country, and many people arrive from the Wroclaw (located 100 km away to the north) direction. Getting there by car is fairly easy, although there may be significant traffic on national holidays. There are both PKS and private buses, giving access to many places in the Stolowe Mountains such as Kudowa Zdroj, Radkow or the charming village of Miedzygorze.