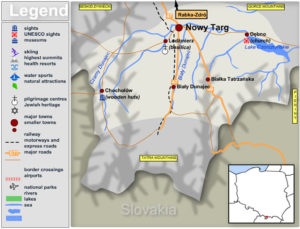 At the foot of the Tatra Mountains is the interesting region of Podhale, whose habitants speak their own dialect and have their own traditions. Podhale is the flat area between the Tatra Mountains and the Gorce mountains, and its main town is Nowy Targ, an old settlement that now serves as a busy commercial centre with few old houses to have survived the turbulence of history.
Beside Nowy Targ, the region has little in the way of urbanization, and there are many interesting small villages hiding surprisingly abundant attractions. Preferred by those looking for holidays off the beaten track, Podhale is a great jumping-off point for travellers who want to explore the Tatra, Gorce or Pieniny mountain ranges.
HOW TO GET THERE 
The main town of Podhale, Nowy Targ, has a good railway connection with Krakow, the journey taking some 3 hours. There are also direct trains to other major cities of Poland, including Warsaw, Zakopane, Poznan, Gdansk, Katowice, and Szczecin. However, it is faster to get to or from Krakow by bus. While travelling by car from Krakow, take the E77 south and in Rabka change to road no. 47. The closest airport is Krakow-Balice. From Nowy Targ you can get to other places in the region by bus. The bus station is situated west of the centre, half an hour on foot from the main market square.