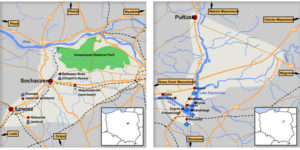 Although not so spectacular or abundant in unusual attractions, the Warsaw area has its own rural charm. The typical Masovian landscape is a flat field crossed by a sandy road lined by rows of willow trees with storks flying above… however, the region is not limited to only this. Aside from silent villages and picturesque manors it hides more surprises, such as an ancient and primeval forest and a large man-made lake. And all of this can be found within just a stone throw of the capital!
Focussing on the northern and western neighbourhood of Warsaw, there are many sights you could visit on a single one-day trip. This should include the manor in Zelazowa Wola where Frederic Chopin was born, the palace in Nieborow and the open-air museum in Sromow. If you have more time then we recommend visiting Lake Zegrze with its abundance of water sports, or one of the villages situated near the Kampinos Forest.
HOW TO GET THERE 
Warsaw is easy to fly to (Okecie airport), to take a train to (main station – Warszawa Centralna) or to drive to. A car makes getting to the small towns and villages around Warsaw, very easy (the E30 to Sochaczew, the E77 to Nowy Dwor Mazowiecki or the 602 to Zegrze), but most of these places can be reached by bus, too. Of course, there are the water trams to Pilawa on Lake Zegrze or one-day organised tours to Zelazowa Wola and other picturesque nooks of Lowicz Land and Masovia.